As we have announced in our last newsletter, we have a new website for Gondwana Brasil. This time we want to share with you the new Restricted Area - exclusive for tour operators, where we provide detailed itineraries, day by day programs, catalogues, special rates, pictures and Brazil's itineraries presentations.

To get full access to this area and also to all the trips in our website, you need to make the registration in our website.











Morro da Babilônia is an example that demonstrates that there exists abundance, creativity and social innovation where the society and the media only wants to see problems.

Since it is located in between two of the most touristic attractions in Rio de Janeiro, the Morro of Babilônia has a touristic structure that is slowly starting to come together. The capacity of organization in the community is strong and the spirit of the entrepreneurship alive, giving way to creative and novel initiatives such as Favela Orgânica, a project that was born in 2011 under the leadership of Regina Tchell.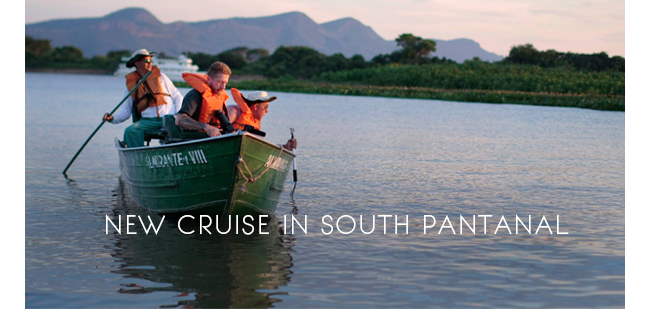 Our team member Renatha Caggiano enjoyed a famtour to the South Pantanal, to experience and get to know more about the new product Pantanal Cruise, at the Paraguay River in Corumbá.
























It´s with a lot of enthusiasm we want to share with you about our new project in Iguassu Falls.

Since September 2016, we have contracted a local coordinator in Iguassu to represent Gondwana Brasil and work as our local host to attend all the groups and FITS in this destination. In the last months, we have focused our work choosing the best local partners for transports, tours and also interviewing many guides that speaks English, Spanish, German, French, Japanese and Italian.

Now we have a diversity of suppliers, specialized in different types of clients, including private and regular services, providing special rates for you.

Our goal for 2017 with this initiative is to design exclusive tours including creativity - involving local gastronomy, culture, nature and lots of adventures.

We are also open to serve special groups in this destination.









Curitiba - Parana - Brasil | +55 (41) 3566-6339
camila@gondwanabrasil.com.br
www.gondwanabrasil.com


Images by: Patricia Santos, Marco Antonio Cavalcante, Agostinho Ramos, Priscila Forone,
Valdemir Cunha, Villa Amazonia and Macuco Safari.